1. Attach LPG fill gun

2. Open Safefill LPG
manual stop tap

3. Start your LPG fill

4. Close Safefill manual stop tap

5. Release fill gun
The refilling of rented gas cylinders is illegal and could see you prosecuted for theft; it's also extremely dangerous. Quite rightly the industry has serious concerns about this practice and wants to stamp it out. So do we – and that's why we designed the Safefill cylinder to be safe and easy to refill. We looked at all the issues identified by the industry and developed a product that's so easy to use; has no complicated hoses or attachments that could be incorrectly used; has an integral overfill protection device (OPD); a secondary back check valve in case you forget to close the valve and tamper-proof fittings that mean gas can only come out of the cylinder when it is attached to an appliance.
Where to refill
LPG is now available on many petrol station forecourts however as the industry has had concerns about people illegally filling rented cylinders, you may be refused in many of these until the Safefill message has been completely understood, which is an ongoing process.
Safefill Refilling Partners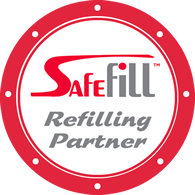 Detailed Map of Safefill Refilling Retailers
Click on button below to access larger map which provides more details of Safefill Filling Facilities.
Once through to larger map you can:
zoom in or out by using + or - symbol
view address of each centre by clicking on relevant icon.
Get directions
Find a Safefill Refilling Station Near You
Click button below to view LPG refilling station information at myLPG.eu